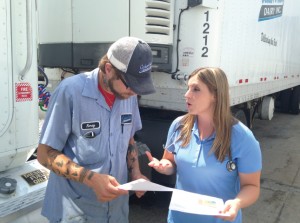 Face-to-Face and One-on-One
Face-to-face, one-on-one, onsite wellness coaching. Educational and motivational wellness resources shared directly with employees in the workplace, customized interactions for each employees based upon their individual needs and what's important to them. We bring wellness to employees and not wait for employees to come to us!
Use of propriety eCoach software to oversee and manage entire process. Detailed reporting opportunities allows management teams to measure performance and quickly respond and adjust ongoing wellness strategy.
Our coaches will manage population programming events, designed to be fun, motivational and goal oriented.  The end results?  Higher particpation and engagement for all people regardless of their stage of change.
Key Program Benefits
Face to Face in the workplace
We come to your employee, and don't wait for them to come to us
Health and Safety coaching–unmatched value, synergy and results
Our coaches are specially trained and have the experiance to help